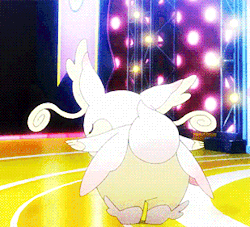 Welcome to Angel Ears; a Pokemon Collection Website dedicated specifically to Audino's (タブンネ) Mega Form (メガタブンネ)*. While not too big on the way Mega Forms work, Mega Audino's design is one I completely fell in love with--pushing it to the number one slot in my favorites list and much sadness that I'll never be able to have it in a permanent form in the game. Regardless, I decided to at least collect it to show just how much I adore the design.
I always liked Audino, but the soft pastels with the raspberry pink eyes of the Mega form really stood out to me. The design reminds me so much of a White Mage/Snow Princess along with the use of some of my favorite colors that it wasn't surprising I adored it immediately upon release.


Mega Audino's (メガタブンネ) name in other languages besides English, Spanish, Italian, and Japanese: Méga Nanméouïe (French), Mega Ohrdoch (German), 메가다부니 (Korean), 超級差不多娃娃 (Chinese), เมก้าทาบุนเนะ (Thai), Mega Tabunne (Various Asian countries-- Romanized version of the Japanese name), Мега Одино (Russian)

Credits: Angel Ears belongs to me as do my photos and the Mega Audino sprite on this page, Mega Audino belongs to the Pokemon Company, Nintendo, and Gamefreak, the cheering Mega Audino gif was made by Sue, the lovely artwork was commissioned by me from Lani and Alyssa, the big B/W-styled Mega Audino sprite that sometimes pops up in the corner is by Wobblebuns, and the bigger B/W-styled Mega Audino sprite that looks similar to its official art that sometimes pops up in the corner as well is by Neon.